Hello friends!
We have finally come down to the final week of the entire season! With two great semi-finals games complete, we have the Battle of Tenth Church PART 2, Burning Bush vs. Shakers!! Last season we witnessed a hard-fought dodgeball game with Burning Bush reigning over Shakers. Will Shakers be able to get redemption this time? Or will Burning Bush become two-time champs? There is only one way to find out and that's to come watch their game at 8:30!
We've got some other headliner games too. There is the battle of LLC, Uptown Monks vs. Downtown Nuns, the battle for 3rd place, Redeemed Team vs. Straight Outta Bethlehem, and the battle of the new teams SVPG vs. Bethel Dragons. Make sure you come check out the other games as well!
Season End Social: December 12 (next week!) will be our season-end social at Heritage Hall in Vancouver. Tickets are still available for $10 in person or $10.50 online (processing fees). You can purchase your tickets online at http://pentasport.ca/social-registration/ . This week's the last week to purchase them!
We are still looking for anyone that's interested in volunteering that night: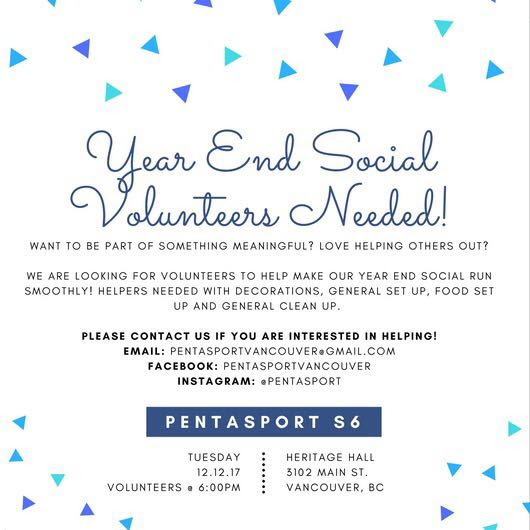 Have a great day everyone 🙂